Annaliese Nock: DareDaughter
Annaliese Nock, is the youngest daughter of circus superstar Bello Nock.
Thus her moniker, "DareDaughter". She proudly represents the eighth
generation of performing Nocks! Annaliese started practicing gymnastics
and dance as soon as she could walk, and learned to ride a unicycle when
she was just three years old… and she's never lost that determination!
She made her performance debut at 11 years old on Ringling Bros. Circus,
performing her solo hand-balancing act.
But Annaliese isn't living in anyone's shadow, she's earned her own
spotlight! Most recently she was named the 2023 Generation NeXt Star by
the Circus Ring of Fame. Annaliese is the only female finalist ever on The
GoBig Show!
Performing the double wheel along side her father, the dynamic duo has
won top honors at the 2012 Daidogei Festival in Japan and the Massy
Festival in Paris. Annaliese was awarded the Bronze Clown at the Monte
Carlo New Generation Festival hosted by the Princess Stephanie of
Monaco.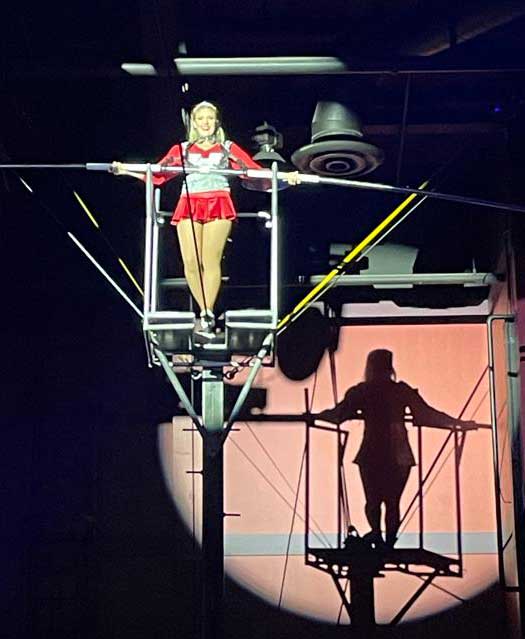 Annaliese already has her own Guinness World Record for performing four somersaults in the Wheel of Death in less than a minute. She also the ONLY woman in the world to perform this trick! And she was featured in the 2018 edition of the Guinness Book of World Records. She's blown herself up on America's Got Talent and she was a finalist on Britain's Got Talent Champions. And her All-New one-woman thrills show, ADRENALINE, has wowed audiences from San Diego to Tampa.
Annaliese Nock broke through the glass ceiling a long time ago! And the sky's not the limit; it's just where she's most comfortable! Learn more about female daredevil Annaliese Nock, here: www.AnnalieseNock.com